Thông tin sản phẩm
Màng cách âm chuyên dụng công nghệ cao, đặc biệt hiệu quả cách âm tần số thấp, ứng dụng cho các công trình đòi hỏi cách âm cao nhất. Sản phẩm của Soprema Tây Ban Nha.
Ứng dụng cách âm cho: Quán Bar, Phòng thu âm, Phòng nghe nhạc, Trung Tâm Hội Nghị, Hội trường, Rạp chiếu phim, Nhà Hát, Nhà máy công nghiệp, Cách âm mái, sàn cho nhà xưởng và dân dụng.....
Qui Cách:
| | |
| --- | --- |
| Trọng Lượng (Kg/m2) | 10 |
| Độ dày (mm.) | 5 |
| Chiều dài (m.)/cuộn | 4 |
| Chiều rộng (m.)/cuộn | 1.2 |
| m2/cuộn | 4.8 |
TECSOUND® SY 100 is a high density polymer-based, asphalt-free, synthetic soundproofing
membrane, that offers good acoustic insulation in different building elements. It is equipped
with a self-adhesive layer, to allow its direct application on the majority of building surfaces
ADVANTAGES:
• High acoustic insulation, combined with soft, flexible elements.
• Flexible.
• Great elongation capacity
• Easy handling and adaptable to uneven surfaces.
• Good bonding to most of the types of surfaces.
• Acts as a vapour control layer
• Cold- and heat-resistance.
• Excellent ageing resistance.
• Rotproof.
APPLICATION:
• Soundproofing against airborne noise in vertical walls with low surface density (lightweight partition walls or boards made of different
materials).
• Soundproofing against airborne noise in ceilings and lightweight roofs.
• Reduction of impact noise level in all types of floors, sandwiched between floor slabs and loose-laid flooring.
• Damping of impact noise caused by atmospheric agents on metal decks.
• Combined with sound-absorbent materials, it offers products with high acoustic performance.
• Its applications in the industrial field cover from the soundproofing of booths to the acoustic insulation of machine-rooms, gutter pipes,
sound damping of metal sheets, etc.

REGULATIONS:
· In accordance with the following norms: CTE-DB-HR, EN ISO 140-1, EN ISO 140-3, EN ISO 140-6, EN ISO 140-8, EN 20140-2 and
EN ISO 717/1/2.
· Quality System in accordance with ISO:9001
INSTALLATION: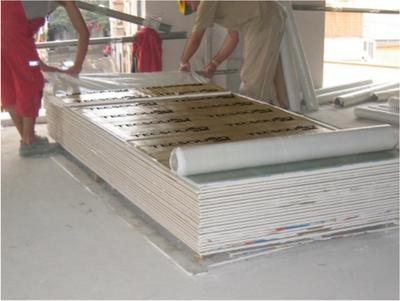 Substrate: TECSOUND SY lends itself to all types of normal
building substrates (renderings, gypsum board, metal, DM, plastic
materials). The substrate must be even, smooth, clean and dry. It
must also be free from elements that could damage the
membrane. If the rendering is old, its condition must be checked
to avoid adherence problems of the TECSOUND sheet to the
rendering.
Installation of the membrane: Remove the protective silicone
release paper, and align the membrane on the substrate, exerting
pressure over the whole membrane to ensure good bonding. If the
length of product is very large, or it is applied in rolls, remove the
protective release paper progressively to aid installation.
Installation of the membrane on metal decks: The membrane must
be applied in such a way that the length of the roll is perpendicular
to the direction of the fretwork. The membrane must be made to
follow the profile of the metal support at all times, ensuring that
there is no formation of air pockets. The thermal insulation boards
are then installed, mechanically fastened.
Laps: Overlap 5 cm both vertically and horizontally. Care must be
taken to always seal the laps correctly, as small openings can
reduce the level of acoustic insulation required.
Yield: 1 m2 of membrane covers approximately 0.95 m2 of
surface area, including overlaps.